Monday, 24 Aug 2020
Jupiter and Saturn are brilliant in the early evening, and although a bit low hopefully the seeing will be typical of a slightly humid summer night.
The SBIG's stripped from the 14 and Altair's centered using an illuminated reticle eyepiece. The eyepiece's than moved to the 80mm long-tube guidescope and the guidescope's centered as well. (With the tiny planetcam chip it an be challenging to put a planet in the FOV at 3550 mm FL.)
Slewing to Jupiter and carefully centering on it, the Celestron NexImage 5 is mounted on the 14. Several 3,000 image AVIs are run later processed thru Registax. Jupiter has a green cast to it. As to why, I've no clue.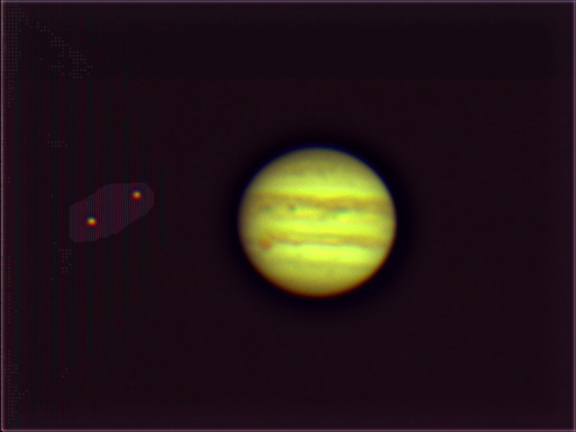 With heavy PhotoShop processing the color is a bit better. And the great red spot is red. On the left, Europa (higher) and Io (lower) look like they've been run thru a prism  Of course, making the images smaller would help a whole lot.
Saturn is a good bit dimmer and even with gain maxed out exposures are only 1/32 or 1/50 second whereas Jupiter was imaged with 1/72 second exposures.
Again 3,000 frame AVIs were subsequently processed thru Registax. Garbage in, garbage out.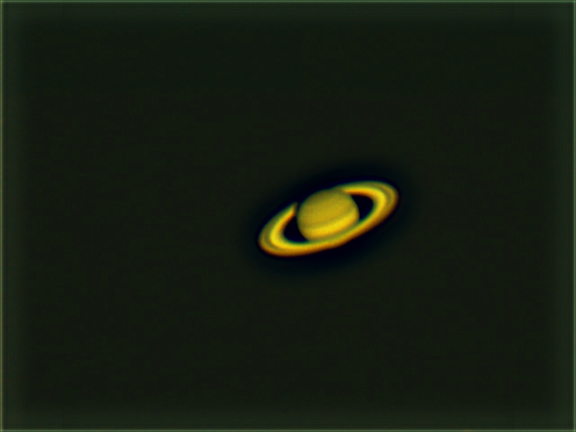 Color was strange. Processed the green tint out but this is not accurate either.
Conclusions & lessons learned:
Although stars weren't twinkiling seeing wasn't good.
Not sure that I learned much tonight, other than that the Celestron planetcam seems to be off-color and that R, G & B seem to be misaligned. Unable to use the Registax color alignment tool to correct things.