Pun intended!
So in addition to the excitement of the first aurora to hit our area in a long time, we had two other significant celestial events to keep our minds going. First off we had the third SuperMoon of the year strike our night skies on Monday, the 8th. Unlike the first two in July and August, this one was almost hidden behind an iffy sky. Alas the clouds broke just enough to get a look at it, so out came the scope and camera.
Not quite cloudy, not quite clear: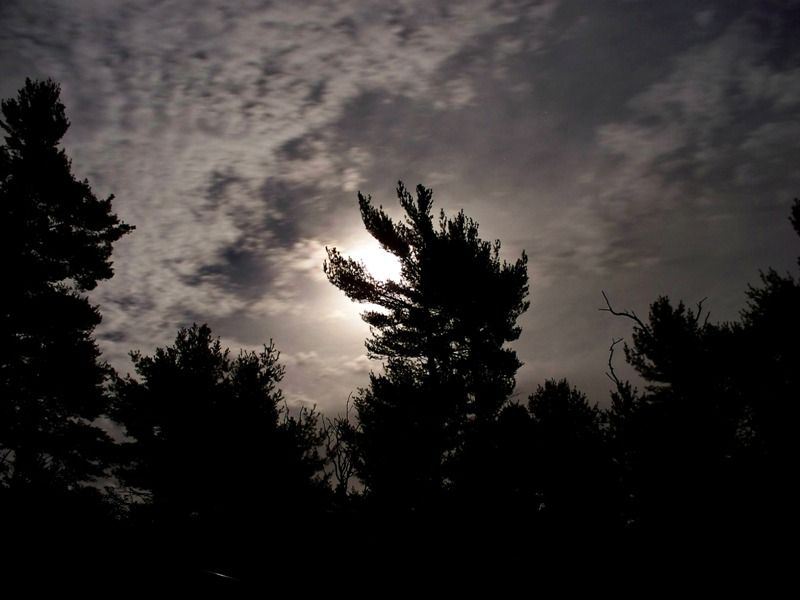 Of course after getting the picture you know I had to complete the comparisons that I had started back with the other two SuperMoons this year. This one fell in between the others in apparent size: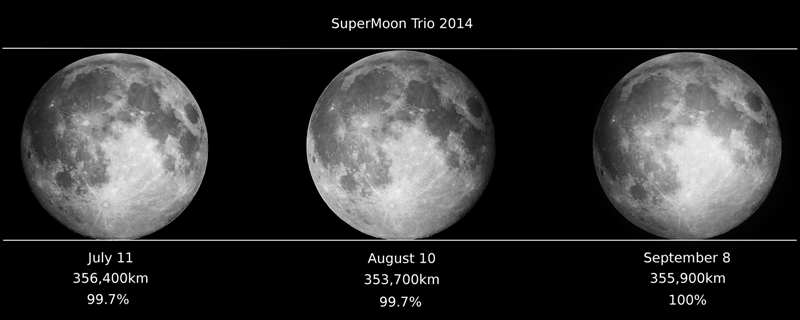 An none of this would be relevant without something to compare it to, so here's the three supermoons of 2014 with the micromoon of the year as well: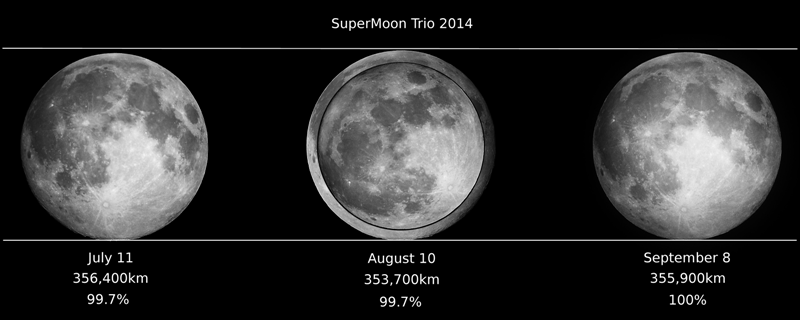 While supermoons are a distinctly mainstream attraction, on Wednesday the 10th of September we had another event involving Luna that was distinctly
non-mainstream
- a Lunar occultation of Uranus. The event would be taking place during moonrise on that night, so I had to take up camp where there was a low enough eastern horizon to catch it. The cornfields down the road apiece did the trick.
About 15 minutes after clearing the horizon, the moon still possessed that handsome color of rising: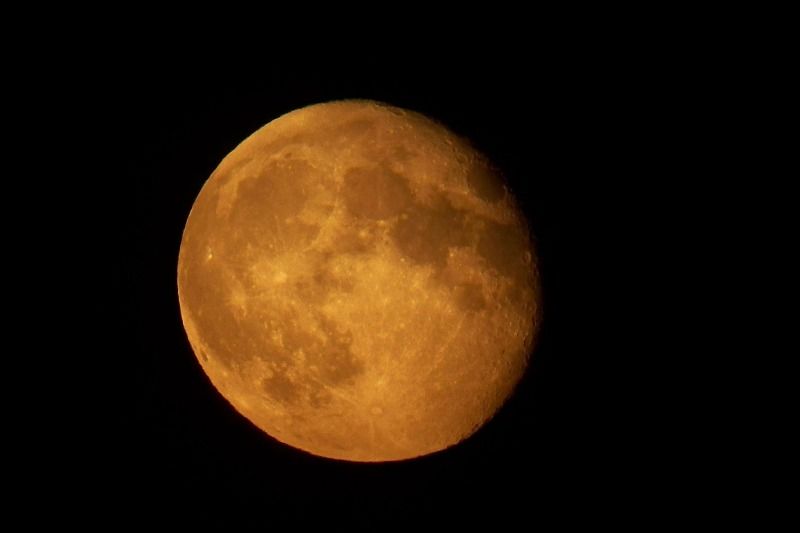 By 8:25pm the moon had begun to brighten, but a thin layer of clouds had infiltrated the scene as well: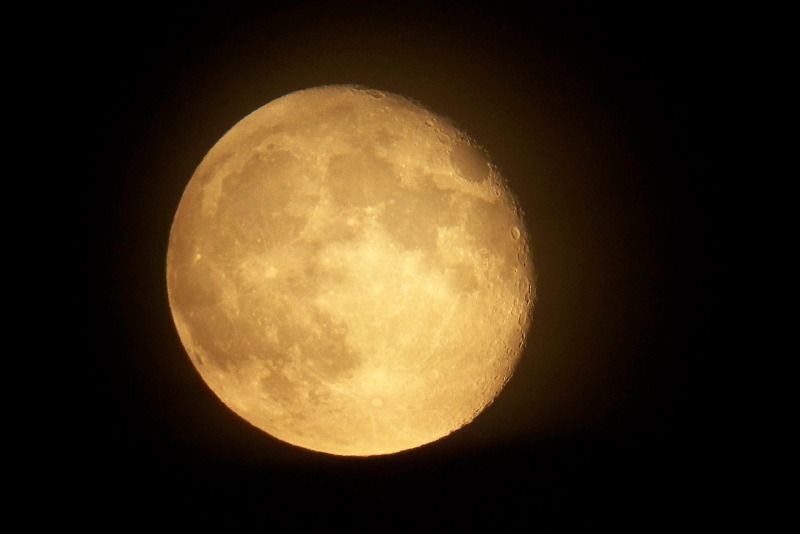 Uranus was slated to clear the dark limb of Luna at about 8:35pm. It took me until about 8:40pm to achieve visual confirmation of the event: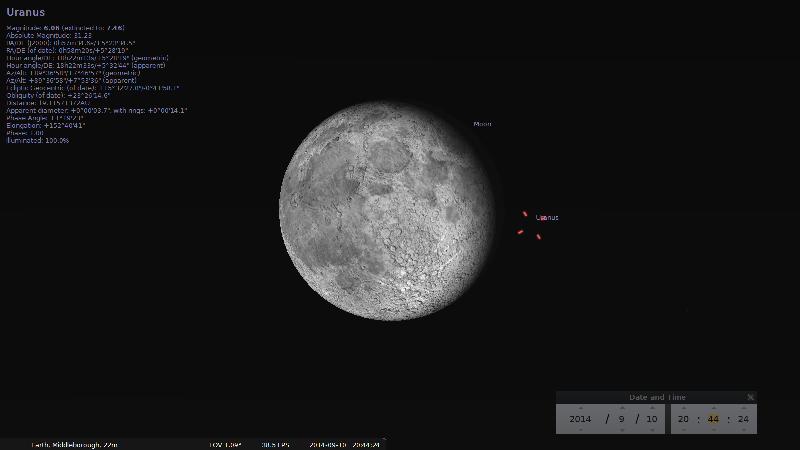 While enjoying the visual spectacle of the two celestial wonders side by side, my mind kept turning to the memory of Pete standing up at a past meeting and shouting out "if you didn't get the picture, it didn't happen!". So in went the barlow, on went the camera, and by 8:45pm I had finally overexposed Luna enough to grab Uranus in the same frame, hazy sky and all: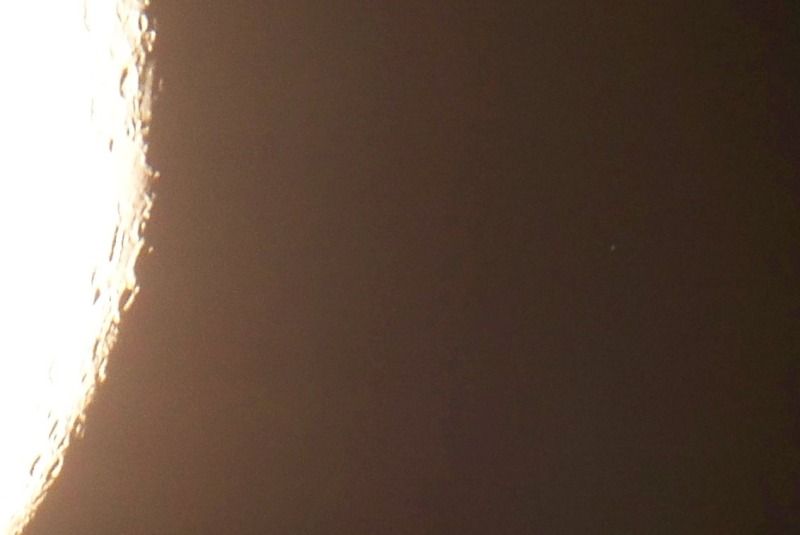 Of course following up these two events just two days later was the CME impact that created aurora as far south as Arizona. Man, what a week!