Thursday, 20 Aug 2020
A lovely clear (for summer) night. Great for further experimentation with the ZWO ASI 2600 MCPro mounted to the 80mm f/11.3 Orion achromat piggybacked on the 14".
While I only paid $119 for this refractor more than 15 years ago it makes for a good experimental platform until making the decision regarding a larger quality refractor for imaging with the new "C format" camera. For the past several outings the setup has been refined as I learn the new hardware and software.
One of tonight's refinements is addition of a new Bahtinov mask to the 80mm. While my focus was very close it's not exact. And the optimum focus is easily attained with the mask and the pickle jar focusing wheel.
I've been advised to experiment with the camera's gain, so I play with it for 30 or 40 minutes. High gain may be used on short exposures but will white out on longer exposures. There appears to be a trade-off between gain and exposure time. While longer exposures are supposedly lower noise they take forever to achieve desired image brightness. As long as there's no noise it would appear that one will get a much quicker image with the gain set high and the exposure set short.
Since M102 has been used as a test standard I'm back on it once again. Far from perfect but very much improved: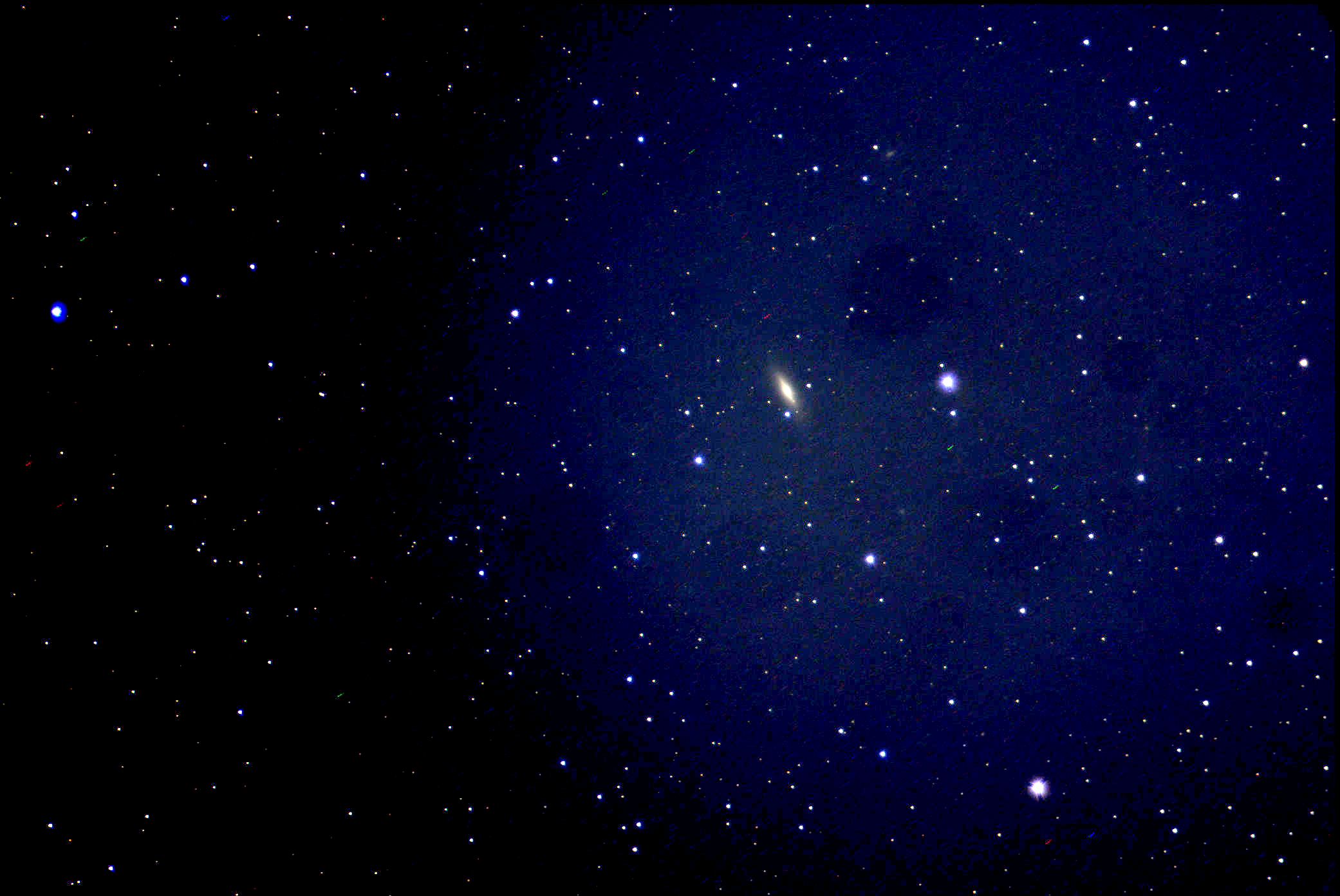 This is a 45 minute (15 X 3 min with gain set at 250) exposure lightly touched up in PhotoShop. Improvements have been made insofar as there are a whole lot more stars in the field, and the galaxy exhibits some color.
Problem encountered with this image - converting the FITS file to TIFF format the color was lost. Eventually wound up downloading this as a lower resolution JPG.
A second problem is that at high magnification there's a little of elongation on one axis. Guided on AZ axis only. DEC axis drifted about 13" in 38 minutes, but the camera stacking was set on auto align which may or may not Need to square the camera next time out to determine which axis. There is also a good chance that the problem's in the optics of the low cost telescope and not the drive.
Regardless, big improvement over last time out.
The sky isn't highly transparent but there's no moon. Biggest colorful object that comes to mind is the Veil. NGC 6992 is something like 7th magnitude so even with the 80mm I've got a chance.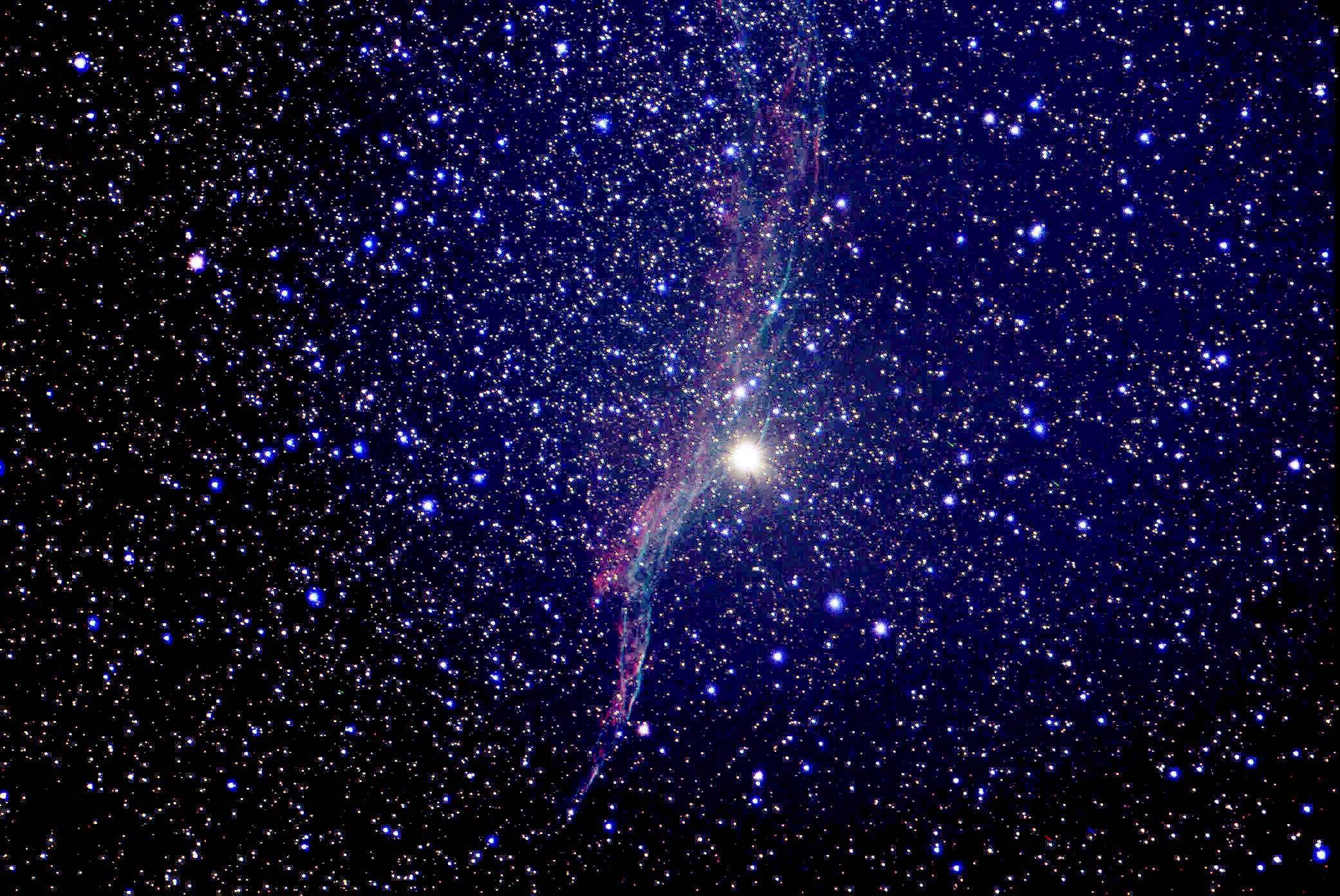 1 hour (14 X 4 minutes, gain is 350). Again, lightly touched up on PS. Again, a real problem in that it was necessary to use JPG rather than TIFF to preserve color.
I'm beginning to understand optimizing histograms for different objects (not well). The white level was adjusted while imaging and if it was effective it stretched the original FITS image.
In at 23:22 hrs. Air temp a comfortable 66F.
Conclusions and lessons learned.
The 14 can't handle much more weight and going from the 80mm to a 100 mm refractor is the best it can manage. I'm used to very fast very fast capture of very dim asteroids thru the 14 and this is sloooooooooooooooooow. The move to a 100 mm will only improve light capture by 56%. Plus the most popular 100 mm f/7 imaging refractors have a 700 mm focal length, which will significantly increase the already oversize FOV. Going to pull the scientific camera after all and use the 14 with the new camera.
To this end, I've ordered a little guide camera that'll mount on either the Orion long tube or short tube. The ZWO ASI120m has a tiny tiny 1/3" chip with a 6mm diagonal. But at $179 its worth trying. The next ZWO chip larger with a 13mm diagonal cost $499.
NEED ADVICE How can I convert the color FITS image into a TIFF or other 16 bit high resolution image that will run on PhotoShop. The FITS Liberator routine that I've been running for years converts images to monochrome.
NEED ADVICE What do knowledgeable imagers do with the exposure vs. gain tradeoff?
Making progress. Images from the zero amp glow noise free (cooled to 0° C) color camera this is very much a learning process and a whole lot different than running astrometry.
I'm really pleased with these still preliminary attempt images.