Nayatt School solar viewing
We were blessed with clear skies and moderate (for March) temperatures as we set up in front of the school. Bob Magnuson, Greg Stone, George Huftalen and I participated, and the 4 of us were fairly busy from 1 to 4 as parents and children attended the school's science fair.
Greg brought his PST plus a unique 6" Newtonian with an uncoated mirror. This Newt is quite safe as the primary is probably only about 5% reflective and a filter before the eyepiece doesn't encounter the heat associated with the dangerous eyepiece filters provided with cheap scopes. Bob operated the strange Newt, George had his SCT, and I operated the club's PST.
We had a few sunspots and a few solar flares to work with, and the clouds were intermittent at worst.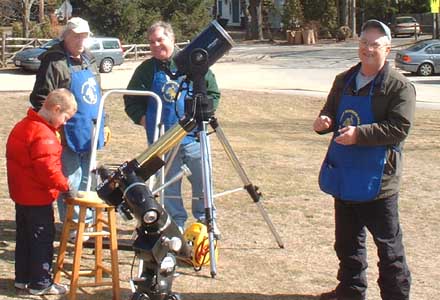 Bob estimated that we had 250 viewers, and that sounds about right to me as I'd printed out 100 flyers (1 per family group) and we ran out shortly before the end of the day.

Thank you guys for helping out.
Pete