3/21/05
Dear Mr. Peterson
On behalf of the Science Fair Committee, the children and parents of Nayatt School as well as the community, thank you so very much for all your hard work and time commitment that went into making the Giant Science Fair such a success.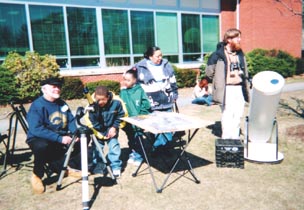 As you saw, the children were enthralled with your exhibit. On several occasions as we passed by the tables, we knew everyone's hard work was well worth it by looking at the children's eyes as they learned about the sun. Both the children and adults were thrilled to be able to look up and observe the sun through your amazing telescope. Thank you so much for volunteering to work at our fair. The curiosity factor at your exhibit alone was enough to prove how interested children are with a hands-on learning approach.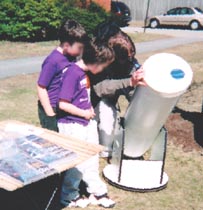 To take time out of your busy life exemplifies your own love of learning and willingness to share that with the children in our community.
The feedback we have received has been overwhelmingly favorable due to the wonderful variety of exhibits such as yours that allowed children to see that science really is all around us.
Thank you again and please know that you have spread the wonder of science to the children of our community.
Lisa MacGillivray, Ann Piper, and Deb Sullivan