Thursday, 19 Dec 2019
The forecast is for frigid and transparent with a breeze. Been running some -30°C darks. Since it's the cold season might as well use it to advantage. The plan's to catch a bunch of critical list asteroids and then to kick back and attempt another high-res DSO.
Out at 17:30. It's 18°F with a 10mph breeze. Dressed in full Antarctic gear including heavy socks in Mickey Mouse boots, flannel lined pants, flannel shirt, electric heated sweatshirt with modified extra strength battery, heavy fleece vest, Antarctic coverall, neck warmer and fur lined earmuff hat.
2011 WN15 is a 757 meter sized potentially hazardous Apollo now 0.2 AU distant and 18.2 magnitude. Due to the gravitational perturbation of planets uncertainty level is still 3. Apparent motion is 4.4'/hr. Imaged from 17:42 – 17:58 at 1 min exposure, 2X2 binning, -15C cooling, 1 Hz guiding. Using track & stack, frames 1-3, 4-6 and 7-10 show dRA = +1.2' and dDEC = +0.3' S/N is 12 and FWHM is 4.0"
Comet P/Blanpain (289P0 is either -1.5 magnitude or 19 magnitude depending upon 2 different sources. Imaged with a 4 minute exposure and it's not visible. So it's too dim to work.
1620 Geographos is a 6 km sized Apollo now 18.1 mag and 1.2 AU distant. Motion is 1.3'/hr. Imaged from 18:20 – 18:40 at 3 min, 2X2, -15C, 5Hz. The high tracking rate is detrimental as the AO is chasing its tail. Frames 1, 2 & 3 show dRA = +0.2' and dDEC = +0.1' S/N is a weak 7 and FWHM is 4.0" Something's wrong here. At this brightness S/N should be doubled. Seeing? Transparency also suspect as I don't see many visual stars.
2019 UJ15 is an 830 meter sized Amor now 19.1 mag and 0.3 AU distance. Discovered 60 days ago the uncertainty level is still 4. Motion is 4.7'/hr. Imaged from 18:49 - 19:09 at 1 min, 2X2, -15C, 1 Hz. Stacking deep, frames 1-5, 6-10 and 11-15 show dRA = -0.5' and dDEC = +0.3' S/N is weak at around 7:1 FWHM is 4"
19.6 mag asteroid 2019 SH1 was on tonight's list but given tonight's unidentified problem with working dim objects it's a pass.
2019 UB11 is a 500 meter sized Amor now 18.3 mag and 0.2 AU distant. Uncertainty level is 3 and motion is 5.2'/hr. The 16°F cold's finally got to me and I'm working the balance of the evening remotely from inside the house. Imaged from 19:36 – 19:54 at 1 min, 2X2, -15C, 2 Hz. Frames 1-3, 4-6, 7-10 & 11-13 show dRA = +0.3' and dDec = +0.2' S/N varies from 7 to 12. FWHM is around 4.4"
19.6 magnitude 2019 QT8 is too dim for tonight.
2013 UC10 is a 792 meter sized Amor now a dim 19.4 magnitude and 0.4 AU from Earth. Motion is a slow 1.1'/hr and uncertainty level is 2. Imaged from 20:01 – 20:44 at 5 min, 2X2, -15C, 2 Hz. Figured the long exposure would help on a night when it's being difficult to go deep, but the 5-minute frames are very noisy at -15C and the asteroid's almost hidden in the noise. Really need to work longer astrometric frames at -30C. Fames 3-4, 5-6 & 7-8 show dRA = -1.2' and dDEC = 0. S/N is a horribly weak 5.0 while FHWM varies from 3.4" to 6.2". If it weren't for the consistent results I'd not report this data.
2019 XW2 is a 830 meter sized Apollo now a bright 17.4 mag and 0.2 AU out. Orbital arc is only 9 days so uncertainty level is7 out of a possible 9. I'm back outside for this one. Imaged from 20:56 – 21:05 at 90sec, 2X2, -30C, 1 Hz.. Frames 1, 2 & 3 show dRA = -0.6' and dDEC = -0.4' S/N is 9 and FWHM is 5"
That's the end of tonight's list. 19 observations are forwarded to the MPC. But the night's young and it's time to play with a DSO.
IC 434 (the Horsehead Nebula) 22 X 5 minutes. 1X1 binning. 3 Hz guiding. Thought the reduction was for -30C and while the camera was at -30C the reduction was for -15C. Which may explain the very noisy individual frames. Anyway, the stack looks good and a wee bit of PS helps as well: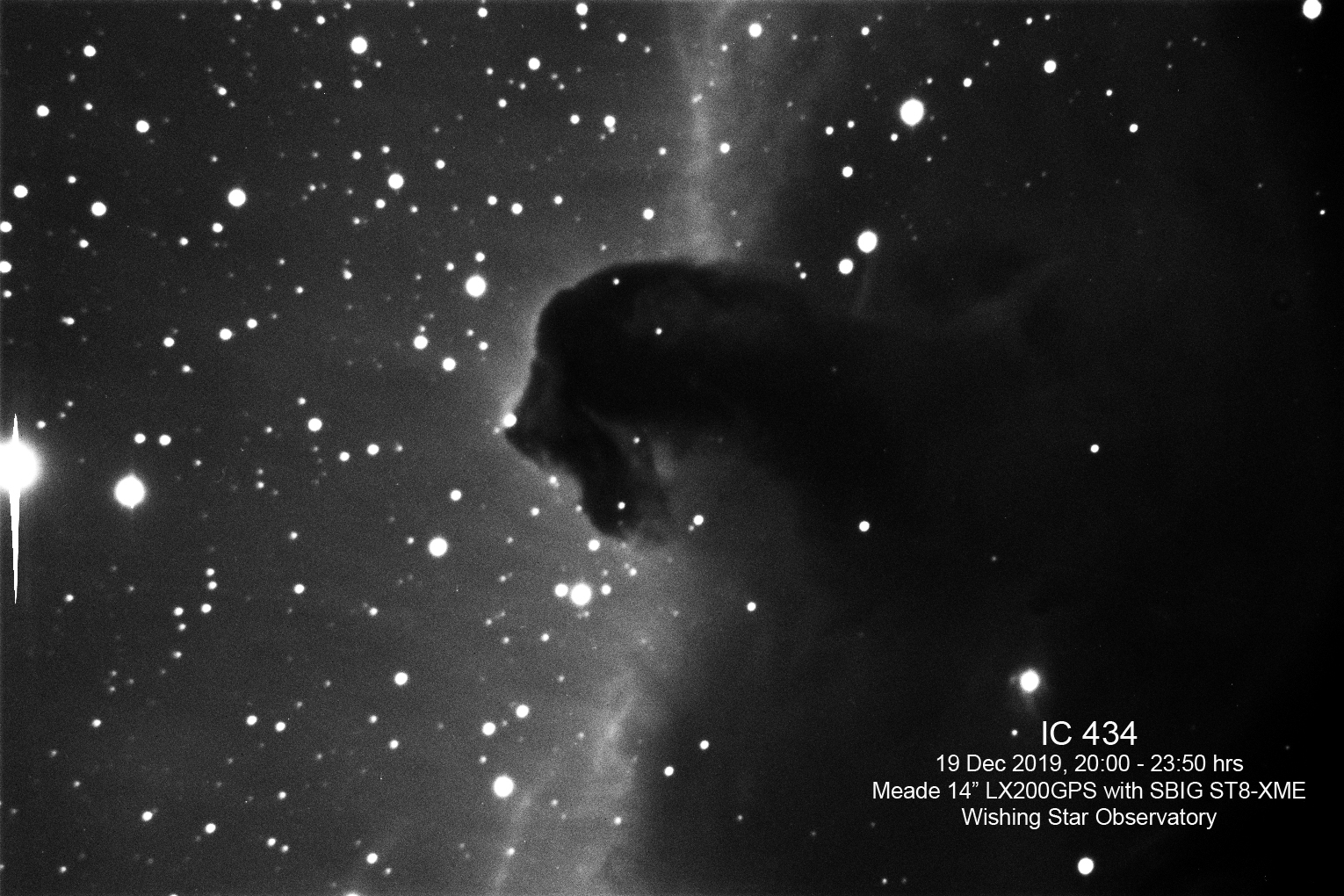 In at 21:50. Air temp's down to 15°
hgp