11 Nov 2019
Today's transit of Mercury will run from 07:30 until a bit after 13:00 hrs. Opened the dome at 07:30, turned on and set up. Baadar filters on both the Orion 80mm scopes, the short tube 400mm and the long tube 900mm. The Celestron NexImage 5 planet-cam is mounted on the short tube and the long 80 will be used for 30X visual. Sol is visible thru the trees but they inhibit camera focus.
The choice of imaging scope is predicated upon the fact that recent daytime imaging work shows that seeing so inhibits resolution that it was better to work a smaller image and keep the planet in context with the full orb of the Sun
Out again at 08:45 focusing and optimizing. Seeing's poor and although I've got a nice black pinhead dot on the long tube the short tube camera image is nearly impossible to focus. Started learning the procedure for sequencing individual frames while messing with focus. Eventually found that stopping down from 80mm (f/5) to 40mm (f/10) made the focus a little bit more forgiving. Might hurt resolution but it does help with the more critical focus issue.
As discovered from my failed ISS Transit of Sol attempt of May 2018, there's a sensitive brightness zone where an object will show on the solar background. Too bright and you lose the object. Too dim and you don't see it either.
Also discovered that a slow shutter speed integrates the poor seeing and results in more of a circular dot representing Mercury than high shutter speeds.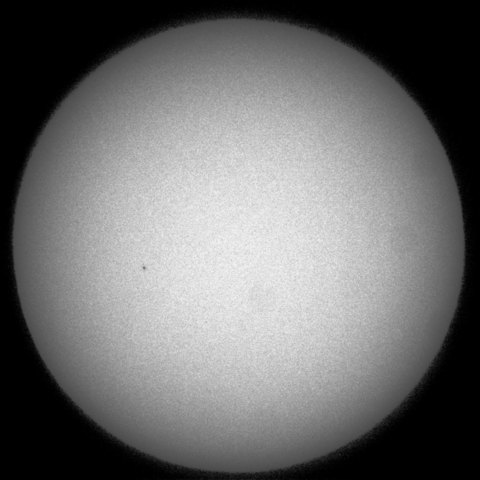 Imaged from 09:11 – 13:00. In the GIF Mercury can be seen moving from L to R across the center of Sol. The transit was just about over when cloud moved in. Figured out the auto sequence routine after almost an hour and had it image every 5 minutes.
Jann, from Saturday's ASSNE meeting came by at 10:30, and Jeff pulled up right behind her. Jan stayed for 45 minutes but Jeff hung out 'till 12:20 keeping me company.
Temperature started out at 45°F and by 13:00 had climbed to 60°. Winter coat to shirtsleeves.
In general this imaging capture was not very satisfying. While I caught the transit image quality is horrible. Especially compared to Tim W's lovely capture.
Pete P