Sunday, September 11, 2011
Although cloud is forecast to move in at dusk a friend had made a very excited request to view supernova SN 2011fe. I'd missed it due to cloud at Saturday's meeting, and since I wanted to test the new focal reducer setting anyway I was out mid-afternoon running a new set of flats. And again out around 19:30 setting up bias/dark/flat reductions for use later that evening.
The supernova was easy to locate as it's the brightest object in M101. I was on it by 19:50 when Michael showed up. Michael is a neighbor who was very knowledgeable regarding most of the technical stuff associated with astronomy & imaging. Cloud had arrived by now, but with 1 second images we were able to view off and on. After about 20 minutes the sky cleared and after experimenting with 15 second images we settled on capturing the SN with 1 minute images.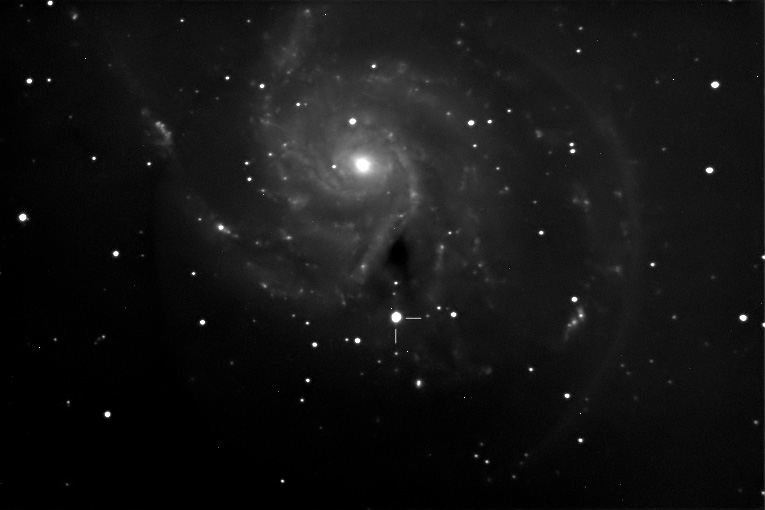 21 images @ 1 minute exposure, binned 2X2, cooled -15C, guiding on a 14.5 magnitude guide star at 3 seconds, new focal ratio of f/5.9, N is up & E is left per standard convention.
At 20:40, after imaging the SN we slewed to nearby M13 and viewed both with camera and 80mm guide scope. Just as my friend Sean (who'd requested the SN viewing) showed up. So we went back onto it and viewed it thru both on the monitor as well as thru the guide scope. Sean has been studying cosmology and was thrilled to see a furnace where new elements are being formed – even if it happened 23 million years ago.
Sean left after about 15 minutes and we slewed to M57. The Ring is small and bright. Bright enough that we weren't getting a detailed image with 1 second exposure on the 14", and small enough that we couldn't see anything beyond a hint of the ring ship at 90X thru the 80mm guide scope – and that with averted vision.
It's now around 21:30 and the 14" is slewed to asteroid 2011 OV4. This 1.2 km sized minor planet was only discovered 48 days ago. I'm aligned & guiding when the cloud rolls in once again. We're shut down by 21:45.
Conclusions & lessons learned:
Was f/6.30. Now f/5.86. I've picked up a 7% increase in my FOV, and gone from 1.66 arc-second per pixel coverage to 1.78 arc/sec/pixel. Although it's a small change it's a good way toward the theoretical ideal of 2"/pixel. Vignetting isn't a problem but the reflections without the flocking are bothersome. First opportunity I've got to pull the camera and reinstall flocking in the focal reducer.
Michael was very helpful and good company. Sean's excitement was contagious. Although it was a short night it was a very good one.
hgp Noon, 12 Sep 11