Stellafane 2006
Friday, 7/28
The weather forecasts weren't promising, and I figured I wouldn't attend. It was only when I looked at the satellite pix on Friday AM and saw a huge clear area heading toward Breezy Hill that I decided to attend Stellafane. So packing was hurried and last-minute. I arrived at Breezy Hill at 12:30 after a 3-hour 179-mile drive. The layout's very spread out and quite confusing to a newcomer. I never would have located the ASSNE campsite without directions via George's loaner walkie-talkie. Thank you again George.
Setup took a couple of hours. The weather was very hot and muggy, but the rain held off until around 16:00 hrs. Setup included a tent, a fly and the scope.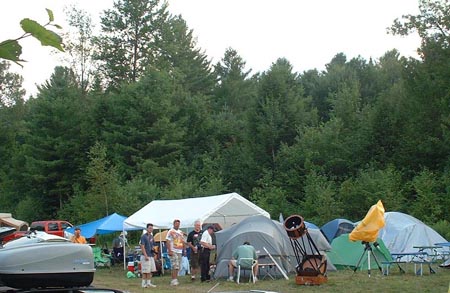 With our crowd, we occupied a site that was 30 yards long by about 15 yards wide.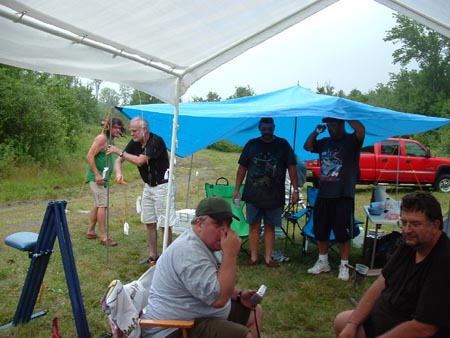 Just as I finished setup the rain started. Heavy.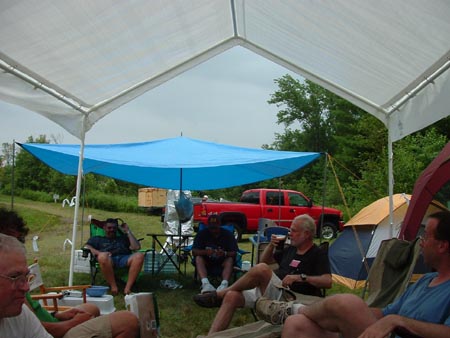 Brian's big vehicle tent was a godsend.
Brian and I appear to be the only dedicated cooks – everyone else took off to the slop tent while Brian cooked something fancy and I did steak, beans and corn.
The rain stopped and the sky had cleared nicely by 20:00, and everyone else set up their scopes. Counting noses we had Mark, Manny, George, Lou, Bruce, Rob, Paul D, Paul F, Dave, Bob Magnuson, Brian, Daten and myself – all with our own scopes.
My fly and Manny's truck occupied some of the area originally scheduled for scopes, so the scopes were split into 2 or 3 groupings. As usual, the computerized go-to was one group and the Dobs a second group. With Mark and Brian on the other side of the road across from the Dobs.
Even with the dark sky I was spectacularly unsuccessful at finding 3 or 4 asteroids I'd plotted several days earlier. As I write this log a few days later I noticed that the dates on the plots I was working with were for JUNE 21st, and not July 28. Well, that does explain it. It had been a busy week and apparently I hadn't found the time to develop an observing plan. But I thought I had, and that's what I thought I'd grabbed.
The smallest details of the Milky Way were easily visible, and we had a very low southern horizon. But the darkness wasn't much better than Arunah Hill. I could still see everybody else, and the black tree line stood out against the lighter sky. Perhaps that was due to the moisture in the air?
Through the 12â€