The ASSNE Sidewalk Astronomy appearance at the June AHA! night in New Bedford featured one telescope, the Corronado PST, and one object, the sun.
I set up on our usual street corner at 6pm, intending to stay out for at least an hour. I soon discovered something I had overlooked when I checked out the site a month ago. Trees leaf out at this time of year! I had to move the telescope a few times during the session to get a clear view. Despite my best efforts, the sun insisted on ducking behind a building at 6:55, and then I packed everything up.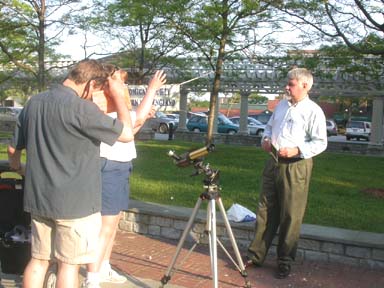 But once again, the weather cooperated and I had clear skies the entire time. The 30-40 visitors in that hour were treated to two large sunspot groups, numerous convection cells. and several solar flares. Using the 20mm plossl instead of the 12mm kellner supplied with the telescope greatly simplified tracking and viewing, and I recommend it for others doing public events with this instrument.
John W